Vaccines for Veterinarians 1st Edition
---
by Ian Tizard January 2020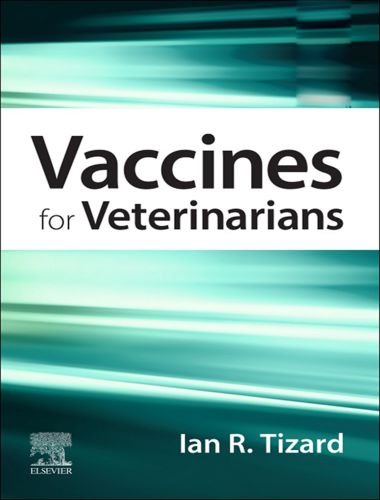 Vaccines for Veterinarians 1st Edition, Vaccines are among the world's greatest medical advances. Despite ill-informed and irrational resistance to their use, vaccination has brought most major infectious diseases under control and massively increased human longevity.
Vaccines have had similar beneficial effects on livestock production, eliminating animal plagues, and making intensive livestock production possible. Companion animals and wildlife have also benefited enormously from the proper application of vaccination. The great triumphs of smallpox and rinderpest eradication would not have been possible without vaccines. They are the most cost-effective methods of preventing infectious diseases ever conceived.
Human and animal vaccinologies are also diverging. In humans, serious discussions are under way regarding the production of individualizing vaccines to match a person's specific immune system. In animals, especially livestock and fish, economics still rule. Mass production and a significant cost/benefit ratio are critical.
Both a theoretical text and a practical handbook, Vaccines for Veterinarians 1st Edition is the first of its kind to bring the basic science of animal vaccination and the practical details of vaccine use together in one single volume. From the first chapter on the history of vaccination and the triumph of rinderpest eradication to the last chapter on the rapidly emerging field of cancer vaccines, this book Vaccines for Veterinarians 1st Edition offers a truly comprehensive grounding in established and emerging vaccines for both major and minor species.
Specific topics include viral vectored vaccines, DNA-plasmid vaccines, RNA vaccines, reverse vaccinology, the complexities of adjuvant use, vaccine failures and adverse events, vaccine production and regulation, robotic vaccination machines, contraceptive and production-enhancing vaccines, and so much more. At a time when resistance to human vaccination is receiving much publicity, this evidence-based book is the ideal counter to ill-informed speculation — serving as a timely reminder that vaccination is essential for the control of infectious diseases in animals.
Download This: Veterinary Vaccines and Diagnostics
Well-respected and experienced veterinary author, Ian Tizard, provides expert guidance on the topic of vaccinations and immunology in veterinary medicine.
Expert Consult site offers an online version of the book, making it easy to search the entire book electronically.
The latest information on viral vectored vaccines keeps you up-to-date on the topic as well as the properties and relative advantages of currently used vectors in animal vaccines.
Survey of vaccine responses covers the different mechanisms by which the immune system responds to different types of vaccines.
Inclusion of the latest vaccine technologies discusses the advantages and disadvantages of DNA-plasmid vaccines, RNA vaccines, and more.
Coverage of adverse events and hypersensitivities includes the best ways to treat them and report them.
Coverage of passive immunization discusses the growing use of therapeutic monoclonal antibodies in veterinary medicine.
Coverage of immunotherapy includes recent improvements and new products in both active and passive immunotherapy against animal cancers.
Direct Link For Paid Membership: –
Direct Link For Free Membership: –
| | |
| --- | --- |
| File Size:  | 20 MB |
| Download Link:  | Click Here |
| Password: | PDFLibrary.Net (if Required) |