Understanding PCR A Practical Bench-Top Guide by Sarah Maddocks
---
This Guide gives you all of the information you need to plan your first PCR, from reagents to conditions to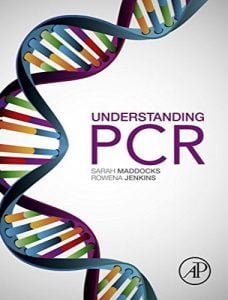 analysis and beyond. It is a user friendly book that has step-by-step basic protocols, which can be adapted to your needs. Includes helpful information such as where to order your reagents and basic troubleshooting hints and tips.
Includes resources for reagents
Explains basic laboratory preparation
Provides straightforward experimental protocols
Incorporates fundamental analytical techniques
Contains a troubleshooting guide
A user friendly book that features step-by-step basic protocols, helpful resource recommendations, and basic troubleshooting tips, this approachable and practical guide explains the process for setting up and analyzing one's first PCR reaction.
So, you have decided to tackle the polymerase chain reaction (PCR); this is an extremely powerful technique that will enable you to amplify fragments of DNA. PCR is also incredibly versatile, and once you have mastered the basics, you will be able to apply the techniques you have learned to a host of molecular techniques including genetic profiling, detection, gene expression, and genetic modification.
Download: Point-of-Care Ultrasound Techniques for the Small Animal Practitioner 2nd Edition
The world of PCR can be overwhelming, from deciding on your primer design, to where to buy your polymerase. It is therefore important that you understand the fundamental requirements necessary to prepare and carry out PCR, to avoid months of frustration or results you can not even begin to comprehend.
Book Name: Understanding PCR A Practical Bench-Top Guide by Sarah Maddocks
File Type: PDF
Download: Link
Size: 9 MB
Password: PDFLibrary.Net