The Zebrafish in Biomedical Research: Biology, Husbandry, Diseases, and Research Applications
---
by Samuel Cartner, Year 2019, File Type PDF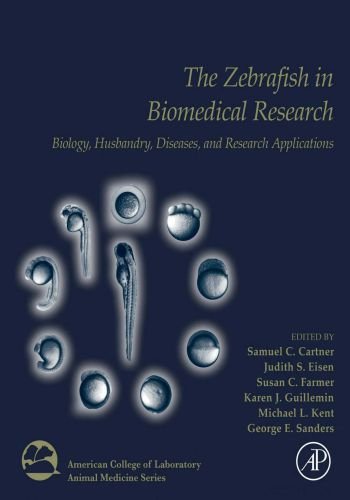 The Zebrafish in Biomedical Research: Biology, Husbandry, Diseases, and Research Applications is a comprehensive work that fulfills a critical need for a thorough compilation of information on this species. The text provides significant updates for working vivarium professionals maintaining zebrafish colonies, veterinarians responsible for their care and well-being, zoologists and ethologists studying the species, and investigators using the species to gain critical insights into human physiology and disease.
As the zebrafish has become an important model organism for the study of vertebrate development and disease, organ function, behavior, toxicology, cancer, and drug discovery, this book presents an important resource for future research. Fundamentals of Laboratory Animal Science
The contents of this book include 51 chapters divided into five main sections: Introduction, Biology, Husbandry, Diseases, and Scientific Research. The Introduction includes a comprehensive review of the history of the zebrafish in biomedical research, followed by chapters reviewing taxonomy, genetics, natural geographical distribution, and behavior of wild populations.
The Biology section includes chapters on the development, anatomy, and physiology of organ systems. The Husbandry section provides extensive coverage of facility design, housing systems and their maintenance, water quality, breeding, colony management, nutrition, and other support activities. There is also a brief review of the regulations, policies, and guidelines pertaining to the use of zebrafish in research in the United States. The section on Diseases provides up-to-date information on the idiopathic, parasitic, bacterial, fungal, and viral diseases of zebrafish.
Biomedical researchers and laboratory animal professionals will find the chapter on special procedures for disease diagnosis and treatment very helpful. Scientific Research covers the major uses of the zebrafish in biomedical research as models for developmental, behavioral, and genetic diseases. In addition, there is a chapter reviewing the novel uses of zebrafish in understanding the hostemicrobeepathogen interaction. The final two chapters review the zebrafish as a platform for technology development and toxicology and drug screening.
Direct Link For Paid Membership: –
Available for Free Membership: –
Size

: 21

 

Download Now

:

Click Here

Password

: PDFLibrary.Net (If Required)