Textbook of Clinical Veterinary Medicine 1st Edition
---
By M C et al Sharma, Published: 2021, FileType: PDF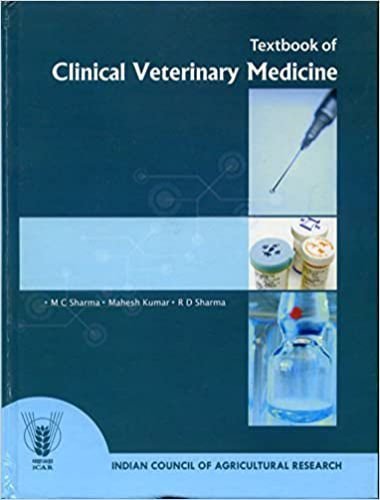 Man has toiled hard to keep his animals healthy and have their company since their domestication. With the passage of time and development of Veterinary Science, the aim was redefined to keep the animal in harmony and get production or pleasure from them. With this the diseases and their treatment came into existence, the domain of veterinary sciences, the concept of livestock health management has been evolving continuously. Animal health management was based on supernatural theory as the cause of disease in prehistoric period.
This view has now shifted to non-infectious or infectious factors as cause of disease, and the interaction of the host, the agent and the environment including management has come into limelight. With these changes our approach for keeping the livestock healthy has also changed. We should aim to maintain animals in good health to get optimum production and pleasure.
Advances have been made in the field of animal diseases during the last two decades, not only in the diagnosis but also in the management and control of diseases. With the advances made in the field of diagnostics, quick and reliable diagnosis of many diseases is possible and aetiology of most of the diseases has been confirmed. Disease economics has to be taken care of, as we have to look into the cost of treatment. The approach is for disease management which not only includes medicinal treatment but also other measures like nutritional, managemental and environmental factors.
Direct Link For Paid Membership: –
Direct Link For Free Membership: –
| | |
| --- | --- |
| Book Name:  | Textbook of Clinical Veterinary Medicine 1st Edition |
| File Size:  | 101 MB |
| File Format:  | PDF |
| Download Link:  | Click Here |
| Password: | PDFLibrary.Net (if Required) |