Small Animal Surgery, Bloodless Surgery
---
by José Rodríguez Gómez, Guillermo Couto, Jorge Llinás, Alexandra Stephens, Published: 2014, FileType: PDF+EPUB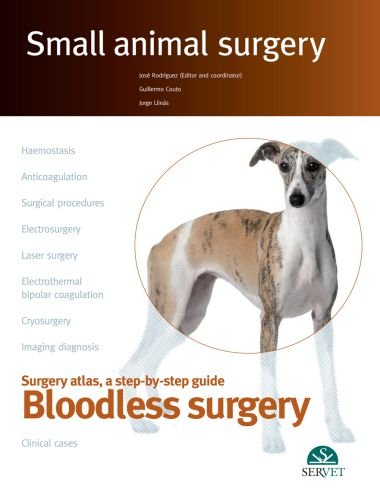 José Rodríguez, together with Guillermo Couto and Jorge Llinás, surprises us again with a new volume of the Small Animal Surgery collection, although this time he focuses on the application of bloodless surgery. The author and his colleagues use their wide experience to show readers the importance of ensuring appropriate haemostasis in surgical procedures. The basic principles of haemostasis, their practical application in various clinical cases or the different techniques available are explained throughout the book, and the information is complemented by numerous images that will help the clinician to ensure haemostasis (making knots step by step, surgical procedures shown in sequences of images, etc.). This work also stands out by including high-quality and very didactic videos, with which the reader will be able to gain valuable knowledge.
During a surgical procedure, the proper blood supply to the tissue must be maintained to ensure nutrition and oxygenation; the surgical team must prevent the excessive intraoperative bleeding that will inevitably occur upon sectioning and dissectioning the tissues. A balance must be struck between vascularisation and hemostasis to complete the operation without complications and enable both the tissue and the patient to make a favorable and rapid recovery.
The success of any surgical procedure depends on the skills and abilities of the surgeon and his team to identify and manage the bleeding precisely, efficiently, and effectively.
Any surgeon must be familiar with the normal coagulation process and why it can be affected, as well as the methods and techniques to achieve and maintain hemostasis during surgery and postoperatively. He must know about medications that facilitate coagulation, mechanical, chemical, thermal, and surgical methods that can be used to control bleeding..
The book collects all the necessary information to approach and perform any surgical procedure with a minimum amount of bleeding possible or controlling and minimizing this complication. The normal coagulation process is reviewed, as well as the clinical implications of altering this process, how to detect and how to manage it. The role of the anesthetist is assessed, and how medications modify hemostasis and the control of bleeding. Common, effective, and up-to-date new methods and techniques for the control of surgical bleeding are presented.
Many of the topics covered are already known to the readers, but we believe that it is never a bad thing to take another look and refresh one's memory. However, we also hope to provide new and useful information and our experience in the control and management of hemorrhages. The purpose is to make surgery simpler and less complicated, reducing the stress on both surgeon and patient and enabling the fastest and best recovery possible.
Direct Link For Paid Membership: –