Small Animal Spinal Disorders: Diagnosis and Surgery 2nd Edition
---
By Nicholas Sharp, Simon Wheeler, Published: 2005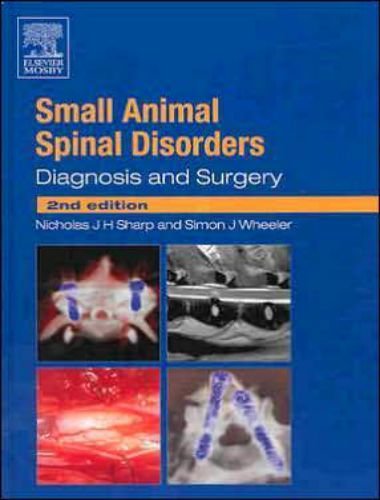 Small Animal Spinal Disorders: Diagnosis and Surgery 2nd Edition, by Nicholas Sharp, Simon Wheeler in 2005. Updated to keep pace with the cutting edge of technology, the new edition of this essential text has been reorganized and expanded. The broad scope of spinal disorders is covered, along with an abundance of color and black-and-white illustrations. Its well-organized approach begins with chapters on relevant anatomy and clinical examination, proceeding to delve into the most updated diagnosis, differential diagnosis, and pre-operative diagnostic aids, concluding with the review of each spinal disorder.
This edition moves from an atlas-style presentation to that of a fully illustrated text. Lengthy figure legends have been replaced with shorter, easier-to-digest figure legends.50 new color prints and line figures enhance coverage on new spine surgery techniques. A description-rich presentation of surgical procedures, outcomes, and complications makes this edition a vital resource for every clinical practice.
The second edition of Small Animal Spinal Disorders now expands considerably on the foundations of neuroanatomy, clinical neurology and basic neurosurgery provided in the first edition. The primary aim of the second edition remains to assist students, general practitioners and specialists in the diagnosis and under-standing of the latest neurosurgical procedures used to manage dogs and cats with spinal disease.
The book has now been completely rewritten and reorganized for 2005. Most of the pre-1994 literature has been reviewed again so that we do not forget lessons learned previously and also so that this knowledge can be placed in proper context with more recent information.
Many exciting contributions have been made in the last 10 years, but not surprisingly veterinary neuro-surgery still tends to suffer from limited case numbers, with follow-up periods often less than a residency-training period in duration. Extensive reference has therefore been made to the human neurosurgical literature, both in an attempt to gain a different perspective and to stimulate a continued reassessment of our cur-rent state of knowledge. Despite obvious differences and limitations, the greater maturity and collective knowledge of the human specialty provides important insights into veterinary neurosurgery.
Direct Link For Paid Membership: –
Direct Link For Free Membership: –
| | |
| --- | --- |
| Book Name:  | Small Animal Spinal Disorders: Diagnosis and Surgery 2nd Edition |
| File Size:  | 65 MB |
| File Format:  | PDF |
| Download Link:  | Click Here |
| Password: | PDFLibrary.Net (if Required) |