Small Animal Formulary 10th Edition Part B: Exotic Pets
---
Treatment of exotic pets can be challenging because of the wide variety of species and conditions that may be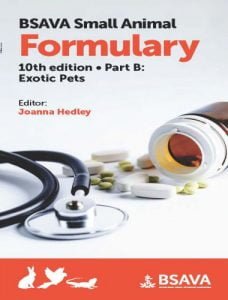 encountered. Although knowledge is progressing all the time, there remains a lack of data on commonly used drugs in these species.  This new edition includes new drugs and expanded information on other drugs, reflecting the latest knowledge, with primary references where available.  Dosages cover small mammals (including primates, sugar gliders and hedgehogs as well as rodents, rabbits and ferrets), birds, reptiles, fish and amphibians.

Welcome to Part B of the 10th edition of the Small Animal Formulary, covering those drugs used in exotic pets. Treatment of exotic pets can be challenging due to the wide variety of species and conditions that may be encountered, in addition to the many anatomical and physiological differences between the different species groups.

Although our knowledge is progressing all the time, unfortunately there is still a lack of pharmacological studies and clinical efficacy trials for many commonly used drugs in these species. Consequently, many drug dosages are extrapolated from those used in other species or have been derived from anecdotal recommendations based on apparent clinical efficacy.

Download: Small Animal Formulary Part A Canine and Feline 10th Edition

As in the previous edition, primary references indicate where information is available, but for most drugs it is important to be aware that evidence is limited. Additional references are provided in the online version of the Formulary and we look forward to expanding this resource in the future.
Trusted information on drugs available for veterinary use in exotic pets
Covers small mammals, birds, reptiles, fish and amphibians
Revised throughout with the newest drugs added
Primary references provided where available
| | |
| --- | --- |
| Book Name:  | Small Animal Formulary 10th Edition, Part B: Exotic Pets |
| File Size | 8 MB |
| Advertisement | |
| File Format | PDF |
| Download Link | Get eBook  (Donate Now) |
| Password | PDFLibrary.Net |