Principles of Goat Disease and Prevention
---
by Tanmoy Rana, August 2023, FileType: PDF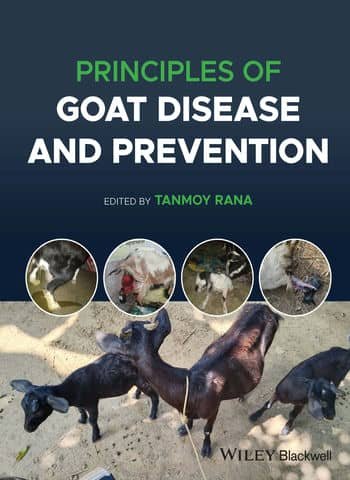 Principles of Goat Disease and Prevention pdf, Learn to diagnose, treat, and clinically manage a wide variety of diseases in goats??
In Principles of Goat Disease and Prevention, veterinary medicine expert Dr. Tanmoy Rana delivers a singularly informative resource covering infectious diseases affecting ruminant animals. The book offers key insights into the most important aspects of common and unusual diseases affecting goats, providing clinical management best practices for veterinary practitioners engaged in the diagnosis and treatment of ruminant diseases.
Related Book: Diseases of The Goat 4th Edition PDF
The author explains ruminant disease, as well as its diagnosis and treatment, systematically, explaining the etiopathogenesis of various pathogens, clinical symptoms, disease prevention and control, and the most recent advances in identifying and treating diseases in goats. Readers will also find:
A thorough introduction to managing nutrition in goats
Comprehensive explorations of the handling and restraining of goats for the purpose of veterinary treatment
Practical discussions of the collection, preservation, processing, and shipment of clinical materials in the treatment of goats
Fulsome treatments of parasitic, bacterial, fungal, viral, and other diseases of goats, as well as the management of pain from surgery and lameness
Perfect for undergraduate, postgraduate, and doctoral students studying veterinary medicine, Principles of Goat Disease and Prevention will also benefit practitioners and students with an interest in studying or preventing disease in ruminants.
Direct Link For Paid Membership: –
Direct Link For Free Membership: –
| | |
| --- | --- |
| File Size:  | 16 MB |
| Download Link:  | Click Here |
| Password: | PDFLibrary.Net (if Required) |