Practical Feline Behaviour: Understanding Cat Behaviour and Improving Welfare
---
By Atkinson, Trudi, Year 2018, File Type: PDF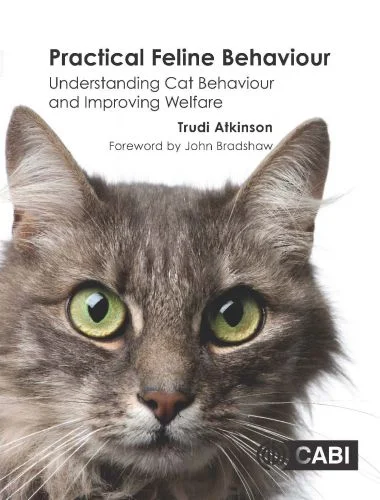 This book contains all the relevant information that a veterinary nurse or technician needs to understand and handle the behaviour and welfare of house cats, and to offer safe and practical advice to clients. This approachable and down-to-earth text describes the internal and external influences on feline behaviour; on communication, learning, social behaviour, the relationship between behaviour and disease, and the cat – human relationship.
It also provides practical advice on how the welfare of cats in our care may be protected and how behaviour problems should be addressed and how to avoid them. In this book, the author draws on her extensive experience as a veterinary nurse and a Certified Clinical Animal Behaviourist to provide a rapid reference and an intensely practical feline behaviour resource for owners, breeders, veterinary professionals, shelter and cattery workers and anyone involved in the care of our feline companions.
This book has 272 pages and divided into two parts, the first part dealt on understanding feline behaviour and consists of seven chapters namely; the origin and evolution of the domestic cat; the senses; feline communication; social, feeding and predatory behaviour; kitten to cat – reproduction and the behavioural development of kittens; health and behaviour; and learning, training and behaviour. Part two focused on practical feline behaviour and presents five chapters namely: advice for breeders; advice for prospective cat owners; advice for cat owners; advice for veterinary professionals; and advice for other cat carers. More Download: Domestic Animal Behaviour and Welfare 5th Edition
The book is divided into two parts. The first section should help to increase understanding of normal feline behaviour: the evolution of the domestic cat, how cats perceive the world around them, how they communicate, hunt, reproduce and learn, as well as how aspects such as physical health, stress and behaviour are closely linked.
The second section provides advice and information for specific groups of people involved with the care of cats: breeders, current and prospective cat owners, veterinary professionals, shelter and cattery workers, and others. But whatever heading you feel that you fit under, reading all these chapters should provide an overall picture of good feline care and behavioural welfare.
Direct Link For Paid Membership: –
Direct Link For Free Membership: –
| | |
| --- | --- |
| Book Name:  | Practical Feline Behaviour |
| File Size:  | 7.8 MB |
| File Format:  | PDF |
| Download Link:  | Click Here |
| Password: | PDFLibrary.Net (if Required) |