Pocket Orthopaedic Surgery
---
By Jay Boughanem, Ritesh R. Shah, Published: 2015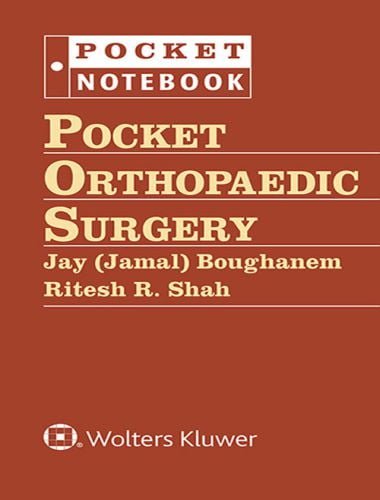 Pocket Orthopaedic Surgery pdf is your go-to resource for the essential orthopaedic information you need in a high-yield, easy-to-use  format. Concise and well organized, it provides must-know information on the pathophysiology, diagnostic criteria, and medical and surgical treatment of common orthopaedic surgery pathologies.  This pocket-sized powerhouse delivers highly relevant orthopaedic coverage in an easily portable source, making reference quick and easy.
This book is written with the orthopedic surgery resident, intern, subintern, junior attending, medical student in mind. The goal is not to provide an overarching comprehensive resource to cover all of orthopedic pathology but rather to serve as a concise point of reference to review the important aspects of common orthopedic surgery pathologies for the orthopedist in training or recently out of training.
Read More: A Guide to Canine and Feline Orthopaedic Surgery 4th Edition
The key idea is to have within the covers of this compact pocket-sized book concise, relevant, to the point, high-yield, and most pertinent information regarding the most common pathologies encountered in the field of orthopedic surgery. The authors of chapters within this book were specially chosen because of their subspecialty knowledge, ability to synthesize information in a concise fashion, and contemporary training. As we develop our core knowledge in orthopedic surgery during training, it is indispensable to have a foundation and a framework to organize new clinical information around. This framework does not need to be all inclusive, but it does need to be highly relevant, well organized, and written in a "to the point" and "here is what you really need to know" fashion. This is precisely the purpose of this book.
Direct Link For Paid Membership: –
Direct Link For Free Membership: –
| | |
| --- | --- |
| File Size:  | 3.8 MB |
| Download Link:  | Click Here |
| Password: | PDFLibrary.Net (if Required) |