Nutrient Requirements of Dogs and Cats (Nutrient Requirements of Domestic Animals)
---
by National Research Council, Year 2006, File Type: PDF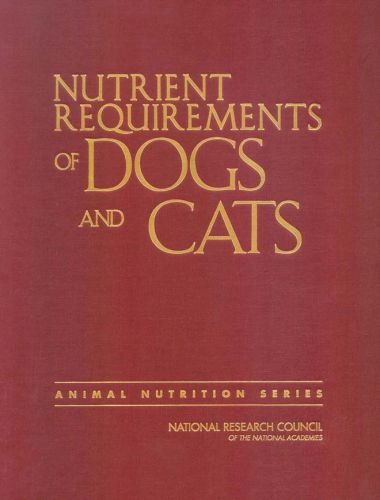 Updating recommendations last made by the National Research Council in the mid-1980s, this report provides nutrient recommendations based on physical activity and stage in life, major factors that influence nutrient needs. It looks at how nutrients are metabolized in the bodies of dogs and cats, indications of nutrient deficiency, and diseases related to poor nutrition.
The report provides a valuable resource for industry professionals formulating diets, scientists setting research agendas, government officials developing regulations for pet food labeling, and as a university textbook for dog and cat nutrition. It can also guide pet owners feeding decisions for their pets with information on specific nutrient needs, characteristics of different types of pet foods, and factors to consider when feeding cats and dogs.
This book is published by the National Academy of Science and was put together by the Committee on Animal Nutrition. A team of international experts was involved – by which I mean academic experts/researchers, not celebrity veterinarians. It is a essentially a compendium of peer-reviewed research findings on canine and feline nutrition. Each macro and micro nutrient has a section describing what is known about it, and there is other information on items such as water, total caloric intake, weight, feeding times, etc.
At the end of the book are tables indicating what is known about minimum, maximum, and optimal intake of a large list of macronutrients, mineral nutrients, microminerals, amino acids, etc. for dogs and cats. There are also many helpful notes on bio-availability, which I found particularly lacking in many of the popular books.
It is important to note that this book is written for a scholarly and/or technical audience. To use it, you will have to be able to understand some of the terminology used, do unit conversions, and calculate how the recommendations apply to your dog (or cat). Animal Husbandry and Nutrition
Some basic knowledge of chemistry, math, and nutritional science is helpful to be able to understand everything in the book. I have some undergraduate coursework in these topics under my belt but still found a few of the sections difficult to decipher. However, it is definitely the bible of pet nutrition.