Medical Management of Wildlife Species: A Guide for Practitioners
---
 by Sonia M. Hernandez, Heather W. Barron, Erica A. Miller, Roberto F. Aguilar, Michael J. Yabsley 
October 2019
This book represents an amazing example of how far wildlife rehabilitation has come. It combines the expertise of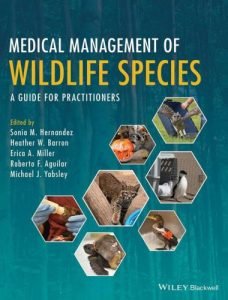 some of the top wildlife rehabilitators and goes a long way toward defining the current state of the art. Although much of the focus is clinical, there are also important chapters on aspects of population health and research.

I first got involved in rehab in 1971. Back then, rehab was almost prehistoric by today's standards. There were pitifully few organized centers and even fewer resources. There were no textbooks, no journals, and no state or national organizations holding meetings. Most rehab was carried out in the homes of well‐meaning people who had little training and no veterinary support. The internet was a science fiction dream and desktop computers were not yet practical for most of us. In retrospect, it's amazing how rapidly all that changed.

It may have been the combination of several social trends in the 1960s and early 1970s that fostered the emergence of wildlife rehabilitation as an organized discipline.  Rachel Carson's 1962 publication of Silent Spring heralded a new era of social and environmental concern and consciousness. The succeeding years brought fundamental changes in how people think of our relationships with nonhuman species and the natural world.

Download: Rule Outs in Small Animal Medicine

And that's where this book comes in. It is an encyclopedic resource that many of us will be using for years to come. In looking at the list of authors for this volume, you will see contributions from an interesting and diverse group of rehabilitators and veterinarians. Some of the vets were rehabilitators first and were drawn to veterinary medicine by their desire to do more for their wild-life patients and their passion for science. Others were environmental educators or wildlife biologists whose commitment to conservation issues introduced them to the need for wildlife care. Still others got their start in rehab through small animal medicine, zoo medicine or training in the military.

Wildlife rehabilitation is a fascinating hybrid of priorities and activities.  Its origins and core values are primarily humane, with caring people rescuing animals that have no owners, providing the best possible care, and releasing these animals back to the wild.  In some modest way, this helps many of us feel as though we're making up for the immense damage that our species continues to do to the natural world. One of the most important related goals of wildlife rehab is environmental education. Encouraging people to live more gently on the Earth – a topic that is the focus of many publications other than the present volume.
Book Name: Medical Management of Wildlife Species
File Type: PDF
Download: Link
Size: 15 MB
Password: PDFLibrary.Net