Manual of Canine and Feline Abdominal Imaging 1st Edition
---
 by Robert O'Brien , Frances J. Barr, File Type: PDF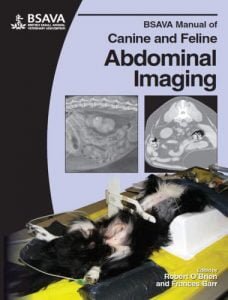 May 2009 (Reprinted 2012)
Imaging plays a vital role in the evaluation of a sick patient. First and foremost images are a data set. The information is there. The clever and methodical evaluator can glean a vast amount of information from images. Integration into the work up of the patient requires insight and an abundance of skill and experience. Perseverance and dedication have no equal for the acquisition of a suitable skill set.
In assembling the chapters for the Manual of Canine and Feline Abdominal Imaging we were fortunate in acquiring the services of many authors. These world experts contributed well written information, wonderful images and a spirit of enthusiasm and competence to this project. Often the contributions were outstanding and truly world-class. We hope that you appreciate their efforts.
Manual of Canine and Feline Abdominal Imaging 1st Edition contains many forms of imaging in this text. While the emphasis remains radiography, we included as wide a spectrum as reasonable. Radiography is extremely important and will remain so in the near future. No other modality provides the overview of large portions of the body in such a quick time for most general practices.
Download More: Diagnostic Imaging of Exotic Pets – Birds, Small Mammals, Reptiles
Ultrasound imaging has been expanding concomitant with increased prevalence and expertise in general practice. No longer the exclusive realm of academia or referral private practice, ultrasound imaging has now become firmly entrenched in the day-to-day imaging of most practices. Finally, we hope that this text projects our love of imaging and devotion to the subject material. We hope that you enjoy the text and find it useful. We fully expect that you will accept learning as a life-long mission. This mission helps our patients, their owners and the veterinary profession. Password: PDFLibrary.Net