High Volume Spay and Neuter A Safe and Time Efficient Approach
---
by Victoria Valdez, Published: August, 2021, FileType: PDF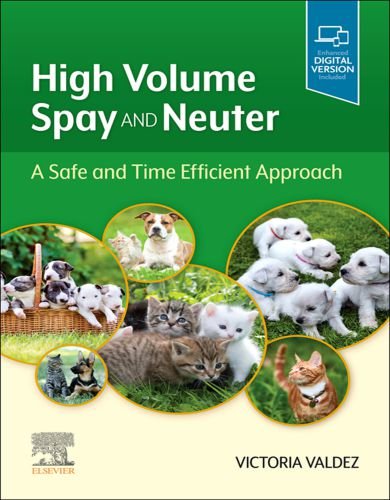 Approaching high-volume spay and neuter as a separate discipline, this comprehensive reference addresses the unique challenges of this branch of shelter medicine. You will learn how to become faster at performing these procedures in a variety of settings, while still maintaining the safety of the patient. Safety is emphasized throughout with guidance on how to best treat patients with unknown medical histories and financial constraints that restrict the ability to do pre-anesthetic blood work. Special attention is given to considerations about surgical technique, as well as topics such as suture selection and size, suture pattern, patient order, medications, and aftercare. Coverage of mobile veterinary services examines how to provide low-cost spay and neuter to underserved communities with this emerging trend in the industry.
Comprehensive coverage examines the "hows" and "whys" of the mechanics of high-volume spay/neuter, as well as how to manage complications that can occur.
Written by Victoria Valdez, an experienced veterinarian who has performed more than 40,000 spays and neuters.
Information on how to set up both a mobile and a stationary suite offers guidance for providing low-cost spay and neuter services in a variety of settings.
Easy-to-read reference manual format ensures each chapter includes all pertinent information on a topic, eliminating the need to cross-reference throughout the book.
Enhanced eBook on Expert Consult offers a fully searchable version of the text.
In Section 2, Surgical Protocols, each protocol includes a section on troubleshooting. This is where problems that can arise during surgery are described and solutions to them are offered. Although a certain problem may be discussed under the protocol for one specific type of surgery, it may well apply to many of the surgery types. For a list of all the troubleshooting topics that are addressed, refer to "Troubleshooting" in the index. Decoding Your Cat – American College of Veterinary Behaviorists
This text is written and directed toward veterinarians interested in high-volume spay/neuter. My hope is that it will also be of value to veterinary support staff in this field. Those groups, such as animal welfare organizations and animal rescue groups, looking to establish a new spay/neuter program or streamline the one they have may also find it helpful. Depending on your level of expertise, some of the things I address here may already be known to you or some may be brand new. To those of you with more experience, please bear with me. This volume is meant to be used by everyone from the new graduate to the seasoned practitioner looking to increase the volume of surgeries he or she performs in a day.
Direct Link For Paid Membership: –