Growth of Farm Animals 2nd Edition
---
By T. L. J. Lawrence, V. R. Fowler, Published: 2002, FileType: PDF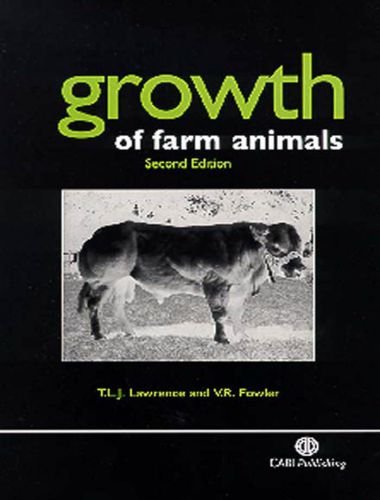 Growth of Farm Animals 2nd Edition, An understanding of the processes that change the shape and composition of farm animals is fundamental to all aspects of production. The book provides a comprehensive picture of how animals grow, change in shape and in composition, and of the factors which affect growth processes and dictate the extent and direction of changes within the animal. It is an updated edition of a popular undergraduate student textbook. The authors have retained the themes of the first edition but have updated and added new chapters.
In writing the second edition we have retained the main theme of the first edition but we have updated all areas which could be updated and added new chapters. The 'primary' new chapters are those on the mammary gland and product yield, on the growth and structure of animal tissues relative to product value for human consumption and on growth promoters.
The chapter on the mammary gland is within the general philosophy which underpinned the first edition, that is a study of inherent growth processes within the animal. The chapter on the growth of animal tissues and their value for human consumption was addressed briefly in the single chapter in the first edition which covered tissue growth but subsequent work on the development of animal tissues relative to products for the human dictated that a separate chapter was justified. Reproductive Technologies in Farm Animals 2nd Edition
The chapter on growth promoters is a move away from the basic theme of the first and this edition in that it considers, nutrition, management and environmental factors apart, the ways in which growth can be influenced by pharmacological and other chemical compounds. Our decision to include this chapter was reached after much serious thought but in the end the decision to include it was on the basis that the book in the first edition had an international market in which, and contrary to the present position in the UK and in other European Union countries, in many countries within that market the use of such substances is still allowed and plays a major part in animal production programmes.
Direct Link For Paid Membership: –
Direct Link For Free Membership: –
| | |
| --- | --- |
| File Size:  | 5 MB |
| Download Link:  | Click Here |
| Password: | PDFLibrary.Net (if Required) |