Feline Dentistry, 2nd Edition
---
 by Jan Bellows, Published: January 2022, FileType: PDF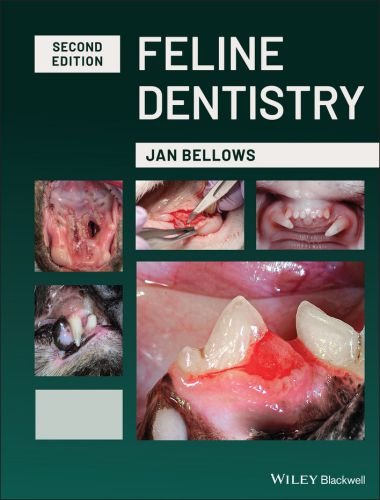 The most up-to-date version of the leading resource on veterinary dentistry in cats, The Second Edition of Feline Dentistry delivers a comprehensive exploration of the specific considerations required to provide dental care to cats that emphasizes their unique needs.
The updated Second Edition includes brand-new material and approximately 300 new images illustrating diseases, conditions, and procedures discussed within the book. The new edition combines the pathology and treatment information to provide additional context which helps make it more clinically relevant. The book also offers:
A thorough introduction to feline oral assessment, including anatomy, oral examinations, radiology, and charting
Comprehensive explorations of dental pathology and treatment in cats, including necessary equipment and materials and anesthesia and pain control
Practical discussions of dental pathology prevention in felines, including plaque and tartar control
Perfect for veterinary general practitioners and veterinary students, Feline Dentistry Second Edition will also be useful to veterinary technicians seeking a one-stop, visual resource on feline-specific dentistry.
Prevention of periodontal disease is aimed at controlling plaque. Prevention is as important as the assessment and treatment steps. Without prevention, there is little doubt that periodontal disease will either continue or worsen. Plaque control methods must be specifically tailored to the patient and client in order to be effective. Wiggs's Veterinary Dentistry : Principles and Practice
Assessment involves evaluation of the patient before the anesthetic procedure and includes medical and dental his-tory, feeding management, home oral hygiene, and physical and laboratory testing. Once the patient is anesthetized, a tooth- by- tooth examination is conducted to create a treatment plan.
Treatment with the goal of eliminating non- functional abnormalities uncovered during assessment is next. The treatment plan often can be accomplished within one anesthetic visit. In some instances, multiple visits or lifelong therapy are indicated. Through daily use of the oral prevention, assessment and treatment process, patients can get the best in veterinary dentistry, which is our ultimate goal.
Direct Link For Paid Membership: –
Direct Link For Free Membership: –
| | |
| --- | --- |
| Book Name:  | Feline Dentistry, 2nd Edition |
| File Size:  | 133 MB |
| File Format:  | PDF |
| Download Link:  | Click Here |
| Password: | PDFLibrary.Net (if Required) |