Ethics in Veterinary Practice: Balancing Conflicting Interests
---
By Barry Kipperman (Editor), Bernard E. Rollin, Published: 2022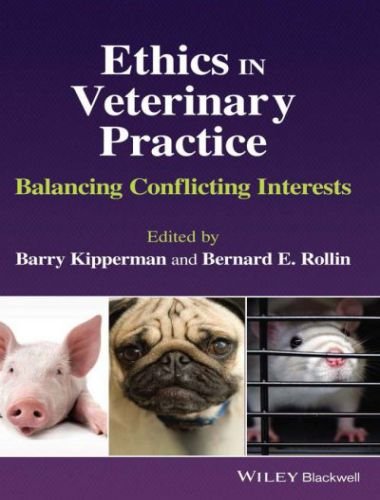 In Ethics in Veterinary Practice: Balancing Conflicting Interests, a team of distinguished scholars delivers a foundational exploration of animal ethics and a guide to examining contemporary issues and dilemmas that arise regularly in veterinary practice. The book offers comprehensive, quickly accessible, and up-to-date information on veterinary ethics with content devoted to unique issues by practice type.
The authors offer a primary resource for veterinary ethics useful for veterinarians, faculty, instructors, senior undergraduates, and veterinary students that focuses on recognizing and addressing real-life ethical dilemmas and relevant philosophical discussions about the moral status of animals, animal rights, and interests.
Ethics in Veterinary Practice presents material on integrative medicine, animal pain, moral stress, and the future of veterinary ethics. Readers will also find:
A thorough introduction to a theoretical basis for veterinary ethics, including discussions of animal welfare, ethical theories, and legal issues
Comprehensive explorations of clinical veterinary ethics, including discussions of veterinary advocacy, ethical dilemmas, professionalism, economic issues, and medical errors
Practical discussions of ethical concerns by practice type, including companion animals, equines, and animals used for food
In-depth examination of emerging ethical concerns including animal use in veterinary education and animal maltreatment
Perfect for practicing veterinarians, veterinary students, and veterinary technicians and nurses, Ethics in Veterinary Practice: Balancing Conflicting Interests will also earn a place in the libraries of instructors teaching veterinary ethics, as well as biomedical and animal ethicists.
"As veterinary medicine becomes more technologically and socially complex, interest in ethics is growing. Ethics in Veterinary Practice provides a needed reference from the North American perspective, for anyone facing ethical dilemmas (i.e., all of us). Suitable for practitioners, students, and technicians, the book supplies factual background and practical guidance for navigation accompanied by a clear ethical analysis of common dilemmas in all aspects of veterinary medicine."
"Ethics in Veterinary Practice is a statement of both the influence of Bernie Rollin's lifetime work and of the coming of age of veterinary ethics. From the moral status of animals to veterinary ethical dilemmas, from medical errors to professionalism, from economic issues to end-of-life decision making, Ethics in Veterinary Practice leaves no stone unturned. A must-read for students and professionals alike."
"This book makes a valuable contribution to the subject, hosting writing from a number of prominent scholars in the field. The book bravely tackles several contemporary issues including veterinary corporations, moral stress and medical errors as well as providing updated insights into the history of the profession and veterinary professionalism. Throughout, the complex and contested place of animals within our society is openly and thoughtfully explored from a veterinary perspective. "
Direct Link For Paid Membership: –