Dictionary of Toxicology 3rd Edition
---
 Dictionary of Toxicology presents a compendium of definitions of all current toxicological terminology. This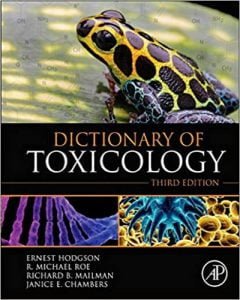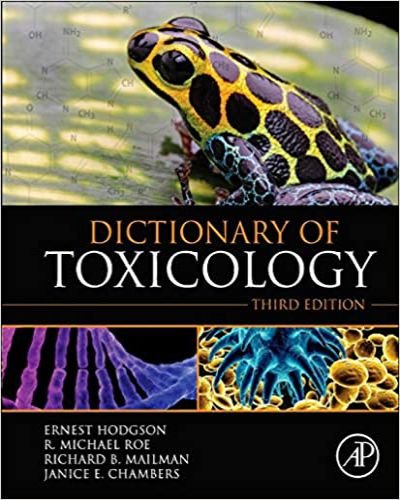 authoritative reference illustrates and describes words, concepts, acronyms and symbols for both the toxicological theory and applied risk assessment, as well as providing guidance on the correct selection of problematic, similar and frequently-misused terms.
Written by one of the world's foremost experts in toxicology, and with each entry peer reviewed, Dictionary of Toxicology 3rd Edition is an essential reference for all scientific, medical and legal professionals who work with or encounter the toxicological effects of contaminants on biological systems.
New to this edition: an update on every entry and the inclusion of all terminology and concepts relating to molecular toxicology, nanotoxicology and computational toxicology.
Presents peer-reviewed definitions on the most up-to-date toxicological terms and concepts.
Includes access to a frequently-updated website to ensure that readers can always access the most appropriate and up-to-date toxicological term.
New edition includes definitions within the fields of molecular toxicology, nanotoxicology, computational toxicology and risk assessment.
Download More: Veterinary Medicine 11th Edition
Many factors were considered in the decision to publish a third edition of the Dictionary of Toxicology. It is a fact that many sources of information, usually web-based, are available and that experts in any narrowly focused aspect of toxicology are not likely to need to look up the meaning of terms in their area of expertise. However, toxicology includes not only fundamental studies in molecular, biochemical, and cellular science but applied fields such as risk analysis, risk communication, and legal and regulatory aspects of risk management among many others.
Thus a real need exists to provide meaning for those in fundamental toxicology wishing to extend the scope of their activities and also those in all the areas that toxicology impacts to understand the terms they need to carry out their tasks. Finally, it must always be remembered that many, if not most, web-based sources contain material that is not peer reviewed.
To bring out a print version of a dictionary, monograph, or journal at a time of transition to electronic versions of all of these is, perhaps, foolhardy but to anticipate the inevitable the publisher will have a dedicated Dictionary of Toxicology web site for additions, revisions, and corrections.
| | |
| --- | --- |
| Book Name:  | Dictionary of Toxicology 3rd Edition |
| File Size | 28 MB |
| Support | |
| File Format | PDF |
| Download Link | Get eBook  (Donate Now) |
| Password | PDFLibrary.Net |