Critical Care – QUICK LOOK SERIES in Veterinary Medicine
---
By Robert Murtaugh, Published: 2002, FileType: PDF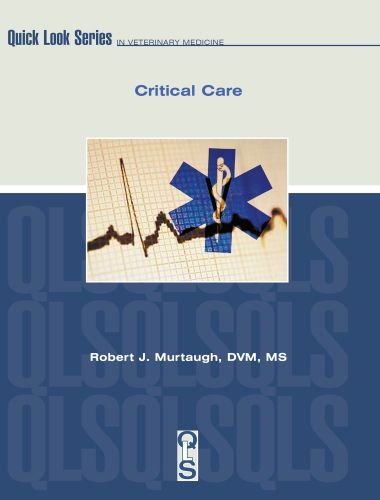 Focusing on the basic science behind critical injury and treatment, this book discusses fluid and electrolytes, critical care support, multi-systemic disorders and critical care diseases. Pathophysiologic mechanisms behind critical injury are combined with core clinical content so the user may develop effective clinical judgments and formulate guidelines for patient assessment, diagnosis and treatment planning. The book features a very clear, easy to understand acid/base balance discussion with over 200 original conceptual drawings that facilitate understanding and 200 multiple choice questions for comprehension.
It has been ten years since a textbook on veterinary emergency and critical care medicine by a couple of guys named Kaplan and Murtaugh was published (I promised myself I would never do it again!). The world of veterinary emergency and critical care medicine has moved forward by leaps and bounds since that time. In 1992, we had our first resident in veterinary emergency and critical care medicine at Tufts—Dr. Robin Wall finishing her program. Today, there are over 90 residents in many different academic and private practice locations currently training to be specialists in the field. Drs. Rush, Rozanski, Dhupa, Ross, and myself have had the good fortune to be able to influence the training of many past and present residents, now leaders in veterinary emergency and critical care medicine.
Additionally, the establishment of student chapters of the Veterinary Emergency and Critical Care Society on most veterinary campuses, the certification of veterinary technicians in the specialty of veterinary emergency and critical care medicine, the insertion of classroom and rotational training in the Specialty for many students of veterinary medicine, and the blossoming of ICU units at a multitude of veterinary colleges and schools speaks to the increasing prominence and importance of veterinary emergency and critical care medicine.
With that backdrop, I can state unequivocally that it was especially rewarding to write this textbook in concert with the entire recent cast of faculty and residents from Tufts University School of Veterinary Medicine. We hope you will find this text a useful tool in your study and practice of critical care medicine.
Direct Link For Paid Membership: –