Commercial Chicken Egg Production 1st Edition
---
by M. Murugan January 2021, FileType: PDF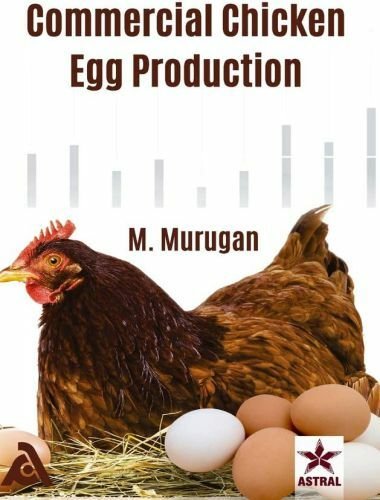 The objective of this book is to elaborate the commercial chicken production system of India with our own farming perspectives. There is a striking difference between western and Indian poultry production systems, which has to be clearly understood for effective professional practice of poultry production in India. Largely, Indian poultry system is tropical climate based and our experience in tropical chicken egg production is unique.
The content of chicken egg production is sequentially presented in the book for easy and comprehensive learning and activities have also been provided at the end of each chapter for practice. The target audience for this book is undergraduate and postgraduate students of veterinary science, poultry science, commercial poultry farm managers, farming aspirants and practicing field veterinary technocrats etc. Chicken Meat and Egg Production Book 5th Edition
The chicken egg is a unique, natural, unadulterated and nutrient rich food for human and animals. Basically, the purpose of egg laying of chicken is to nourish their young ones during their embryonic development and not for human use. However, the history of use of chicken egg as human food is traditional and time immemorial. The history of chicken egg production is recent, when compared to domestication of chicken. Indian commercial chicken egg production system is barely fifty years old. Third five plan period is the starting point for commercial chicken egg production through import of hybrid layers from developed countries.
Direct Link For Paid Membership: –
Direct Link For Free Membership: –
| | |
| --- | --- |
| Book Name:  | Commercial Chicken Egg Production |
| File Size:  | 9.8 MB |
| File Format:  | PDF |
| Download Link:  | Click Here |
| Password: | PDFLibrary.Net (if Required) |