Clinical Veterinary Language 1st Edition
---
by Joann Colville, Sharon Oien, Published: 2013, FileType: PDF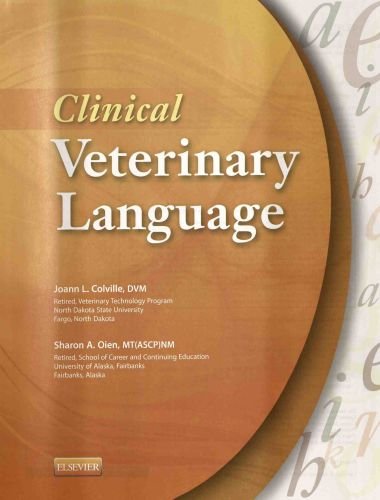 Welcome to Clinical Veterinary Language. Our hope is that as you work your way through the book you will become comfortable with the "veterinary speak" that is used every day in veterinary medicine. Why another medical terminology book? Between the two of us, we have several years of experience in teaching medical terminology to students studying in both the veterinary medical and human medical fields. One thing that struck us as we searched for relevant terminology textbooks was that many of the books currently available rely heavily on anatomy and physiology as their foundation for learning.
They are, in effect, anatomy and physiology books in disguise. We wanted something different—a book that emphasizes learning and understanding the veterinary (medical) clinical language, not anatomy and physiology. Early on we discovered that there is no way to separate anatomy from veterinary clinical language. Many attempts are sitting in virtual and real trashcans. What makes Clinical Veterinary Language different is that the emphasis in this book is not on learning individual bone names, how muscle groups work, or the details of digestion. While anatomy is an obvious starting point, we believe learning clinical veterinary language will become more relevant to you if it is associated with clinical applications. We want you to understand and interpret the words you will encounter as you begin a career in veterinary medicine as part of the veterinary team.
Clinical Veterinary Language emphasizes learning and understanding veterinary language, rather than focusing primarily on anatomy and physiology. Case studies, pronunciation guides, and word-building exercises clarify word parts and concepts to help you master word meanings and the way words are built. This practical resource provides the tools you need to communicate effectively in any veterinary setting. Trends and Advances in Veterinary Genetics 1st Edition
Clinically focused chapters with case studies and medical reports provide you with the opportunity to apply your vocabulary knowledge.
Fill-in-the-blanks, Matching, Define the Word exercises, and more in every chapter offer vocabulary-building skills practice.
Quick Tips, Watch Out! and Interesting Word Origins boxes highlight key concepts and make learning vocabulary fun.
Objectives, key terms, outlines, chapter introductions, and key points help you prioritize information to ensure you understand what is most important in every chapter.
Direct Link For Paid Membership: –
Direct Link For Free Membership: –
| | |
| --- | --- |
| Book Name:  | Clinical Veterinary Language 1st Edition |
| File Size:  | 54 MB |
| File Format:  | PDF |
| Download Link:  | Click Here |
| Password: | PDFLibrary.Net (if Required) |