This Manual is built upon the extremely successful Manual of Small Animal Arthrology. However, in broadening the remit to cover Canine and Feline Musculoskeletal Disorders, we have been able to be more inclusive, such that conditions of bone, tendon and muscle are now incorporated.
Canine and Feline Musculoskeletal Disorders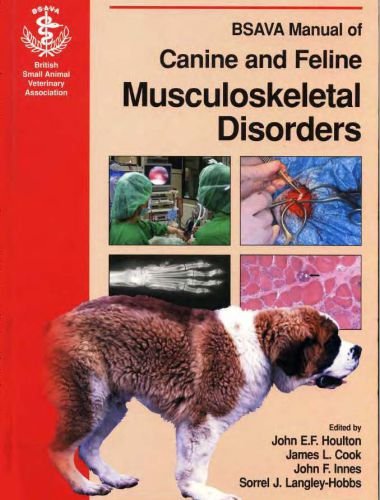 In this way we hope we have provided a ready reference for the small animal practitioner faced with a dog or cat showing lameness, stiffness or joint pain. We have excluded diagnosis and treatment of fractures from this manual because these are already covered in the excellent Manual of Small Animal Fracture Management and Repair. Indeed, we have endeavoured to borrow some elements of style and presentation from that sister manual, so that the two manuals should complement each other and provide a rounded and up-to-date overview of orthopaedics and rheumatology in the dog and cat.
The early parts of this new Manual deal with generic issues related to the biology, diseases and treatment of bones, joints, muscles and tendons. There are also chapters on surgical instrumentation and biomaterials, to provide a theoretical basis for the more applied chapters that appear later in the book. This latter part embodies a systematic approach, focussed on each of the major synovial joints, including the temporomandibular joint.
Each of these joint-specific chapters deals with basic anatomy and surgical approaches, before describing the conditions that affect the particular joint. The reader will note that we have covered common surgical procedures on joints with the use of Operative Techniques at the end of each chapter. We have tried to choose standard techniques that will prove useful to the reader. We hope therefore that this Manual will be both a source of theoretical information and will provide real practical guidance for the surgeon. Possible pitfalls and key points are highlighted throughout the Operative Techniques so as to make maximum use of the experience of our authors.
It goes without saying that development of surgical skill takes more than reading textbooks, and all surgeons need to attend practical training classes, discuss cases with experienced colleagues, and assist and learn from more experienced surgeons. In addition, some surgical techniques in this book are clearly more advanced than others. For example, we have included a description of total hip replacement, which is obviously not a procedure to be attempted lightly, nor by the inexperienced.
However, within specialist centres this is now a relatively common technique and we felt it appropriate that this be reflected in a modern surgical Manual. Overall, practical surgical guides such as those contained in this book, can, we hope, provide a concise basis for sound clinical practice based on the experiences of the authors. We hope that this Manual will prove to be a handy and well thumbed companion to our clinical colleagues.
Direct Link For Paid Membership: –
Direct Link For Free Membership: –
| | |
| --- | --- |
| Book Name:  | Canine and Feline Musculoskeletal Disorders |
| File Size:  | 40 MB |
| File Format:  | PDF |
| Download Link:  | Click Here |
| Password: | PDFLibrary.Net (if Required) |