Broiler Meat Signals: A Practical Guide to Improving Poultry Meat Quality
---
 by Wim Tondeur, Piet Simons, January 2019, FileType: PDF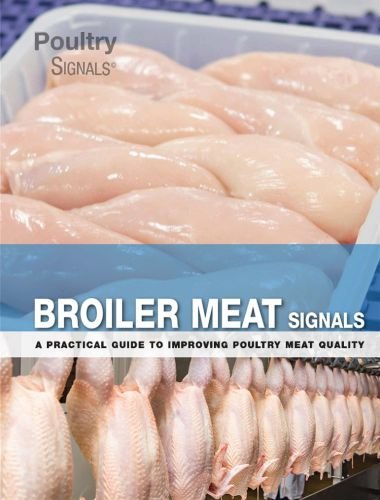 'To meet modern consumers standards in broiler meat, all partners in the chain should focus on quality, from the fertilized egg through broiler production and processing to consumption!'
On a global scale, poultry will soon be one of the most important protein source in the human diet. The quality of this meat is essential. The modern consumer is critical and has high standards of expectation. It is a challenge to meet up to these expectations.
Quality day old chicks are the start of quality poultry meat. This is further secured in the process by excellent broiler management. A lot of quality issues in the slaughter house can be traced back to problems in broiler management. Broiler Meat Signals therefore starts with the live animals, following the broiler all the way to becoming a consumer product. The first step in the actual processing of poultry meat is harvesting the birds. The farmer has produced a perfect broiler, it would be a pity if the harvesting would cause bruises and broken legs! The veterinary inspection is an essential part to guarantee food safety. Food safety plays an important role during the whole process. Did you know the metal detector picks up all kinds of strange objects ingested by the live birds: from screwdriver bits to nails and coins! Objects that you wish never ever to find a consumer product. Many checks and balances prevent that abnormalities end up on the consumers' plate. Handbook of Fermented Meat and Poultry 2nd Edition
In the processing the carcass has to be cooled and stay cool after killing the broilers. The many steps – such as stunning, bleeding, scalding, de-feathering, evisceration, portioning, etc. – result in all kind quality products that leave the plant for direct consumption or further processing. The quality is assessed in each and every step.
Broiler Meat Signals contains practical information about broilers and all further steps in processing. With practical tools and modern insights to guarantee an efficient produced, safe, healthy and tasty product.
Direct Link For Paid Membership: –