Atlas of Diagnostic Cytology in Small Animals
---
 by Elena Martínez de Merlo, Owen Howard, Published: 2019, FileType: PDF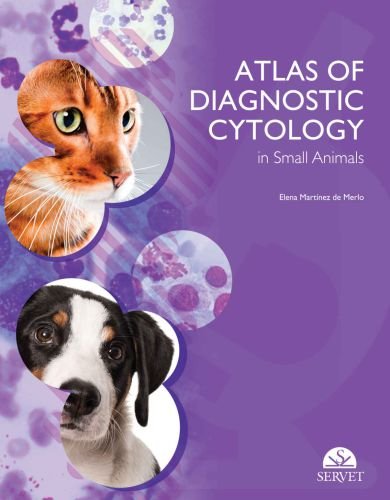 Atlases of cytology are an essential tool in small animal practice. Diagnostic cytology, which is used extensively in routine clinical practice, requires the most comprehensive cell identification possible. This is best achieved with the help of numerous images that reflect the most characteristic and distinguishing features of the different cytological patterns, and this book will therefore be of great use to the reader in the diagnostic process of many pathologies.
Cytology can only be explained with images, and therefore we agreed that the atlas format was essential. However, the most notable feature of this book is that, unlike the previous atlas (and most published cytology atlases), it focuses on diseases rather than organs or tissues. Thus, in each chapter readers will find multiple images reflecting different aspects of the most frequently encountered conditions, regardless of lesion location. Equine Hematology, Cytology and Clinical Chemistry, 2nd Edition
This atlas was put together after consulting numerous published texts (including the atlases that we all keep next to our microscopes), as well as information published on websites devoted to cytological diagnosis. However, the bibliography only lists specific publications focused on the description of specific cytological concepts, which must be understood to ensure that the cytological diagnosis is as detailed and precise as possible.
This atlas is also the product of many years of first-hand experience: 30 years working in the field of cytology provides many learning opportunities. We have attempted to provide readers with the tools necessary to answer the many questions that they will face when sitting alone at the microscope examining a cytological preparation from a specific patient. Cytology can only be understood by devoting considerable time to its study. However, if the information provided in this atlas can help to reduce the time required to establish a diagnosis, in addition to improving performance and ultimately benefitting the patient, we will have fulfilled our objective.
Direct Link For Paid Membership: –