Is it ever appropriate to diagnose and treat oral and dental problems without knowing the full extent of the problem? With more than 50% of anatomical structures and associated pathologies located below the gingivae and unseen to the eye, that's the reality without the use of high-quality, accurately interpreted radiographs.
Atlas of Dental Radiography in Dogs and Cats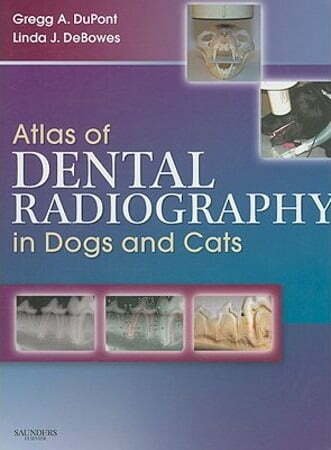 Atlas of Dental Radiography in Dogs and Cats presents hundreds of actual radiographic images, which are clearly labeled to facilitate accurate identification of normal and abnormal features. This valuable new atlas shows you exactly how to correlate common dental conditions with radiographic signs. Radiographs are also compared side by side with actual anatomical photographs to confirm surface landmarks visible on the radiographs.
Correct positioning techniques for producing diagnostic radiographs as well as helpful tips and pitfalls when obtaining quality radiographs are logically presented. This approach helps you produce consistently high-quality radiographs, sharpen your interpretive skills, and confidently treat a wide range of dental problems.
Presents the most logical and useful approach to dental and oral radiography, using actual anatomical photographs for accurate clinical correlation Depicts original and color-labeled radiographs side-by-side for accurate identification of normal and abnormal structures Helps both veterinarians and technicians take the best possible radiographs, interpret them accurately, make sound treatment decisions, and monitor results Provides clear, technical guidance for taking quality radiographs and identifying artefacts and results of improper imaging technique and film development Presents clear pictorial instructions – from 2 angles – for correct positioning of the X-ray beam and intraoral films Offers new opportunities for expanded professional services and revenues in your practice Provides proof of compliance with standards of care for medical record documentation, helping you legally protect yourself, your staff, and your practice.
This book provide practical and easily accessible in-formation that will add to your enjoyment of caring for the dental and oral health of your patients. We hope that you find the textbook helpful in your studies and your clinical practices.
Direct Link For Paid Membership: –
Direct Link For Free Membership: –
| | |
| --- | --- |
| Book Name:  | Atlas of Dental Radiography in Dogs and Cats |
| File Size:  | 17 MB |
| File Format:  | PDF |
| Download Link:  | Click Here |
| Password: | PDFLibrary.Net (if Required) |