Atlas of Canine Arthrology: Updated Edition with 3D Animations
---
By Jesús Laborda Val, Julio Gil García, Miguel Gimeno Domínguez, Published: 2021, FileType: EPUB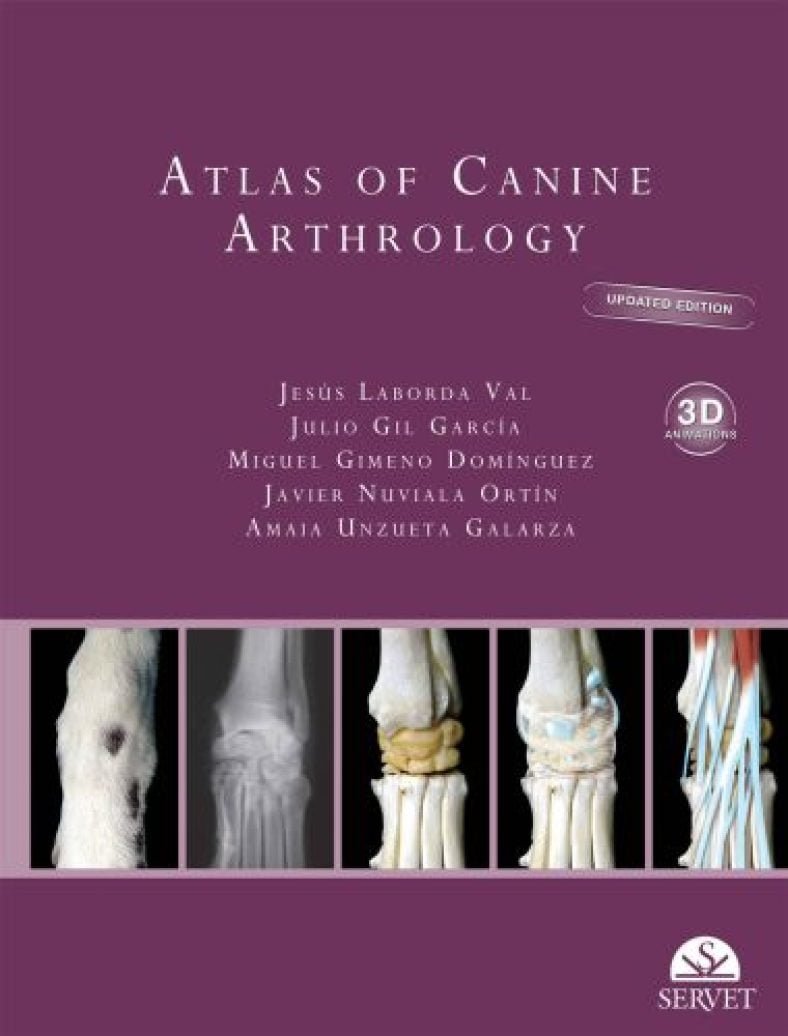 This work is intended as a practical atlas that provides a comprehensive description of the anatomy of each component found in a dog's articulations. However, in this updated edition of Atlas of Canine Arthrology, the information provided in the previous version has been enhanced and complemented with new tools, 3D animations, and self-evaluation tests that will help readers acquire knowledge and form a better understanding of joint anatomy and function– elements of great importance for each dog's physical health and well-being.
This new version of Atlas of Canine Arthrology responds to the veterinary surgeon's patent and everyday need for a visual, practical, and useful reference work that offers comprehensive information about dog joints. The diseases that affect these musculoskeletal structures require increasingly specialised attention and this atlas provides veterinary surgeons with the precise anatomical information they require.
The book starts by reviewing general points, such as characteristics of articular cartilage, the ossification timeline of skeletal elements, the different types of joints, or the components of synovial joints. It continues with a systematic description of the joints found in each area of the body, including the head, trunk region, and the limbs, with a special emphasis on the joints' geometry and viable movements, arthrocentesis and the technique's indications, and the most commonly encountered complications, such as dislocation, subluxation, or dysplasia. Particular importance is placed on ensuring a clear visual portrait of the joints' components and their arrangement within each structure.
As such, each joint is depicted through illustrations created using a novel technique which outlines the joint, muscular, and vascular structures displayed over actual photographs of bones, while X-rays are used to complete the schematic information in each illustration. The amount of text, which focuses on the use of appropriate anatomical nomenclature to describe the joint structures, their functional significance, and the points to consider when carrying out each diagnostic and therapeutic procedure, has intentionally been reduced to underscore the importance of the images. There are also illustrations of the clinically most suitable sites for the veterinary surgeon to perform joint aspiration (arthrocentesis). In addition, the book includes QR codes to access to 3D animations and self-assessment tests to improve their knowledge.
KEY FEATURES:
➜ Detailed description of each joint accompanied by high-quality graphical material.
➜ High quality illustrations.
➜ 3D animations that allow the reader to visualise the joints in all possible positions.
➜ Self-assessment tests that allow readers to consolidate their knowledge.
Direct Link For Paid Membership: –