Advanced Techniques in Canine and Feline Neurosurgery
---
by Andy Shores, Brigitte A. Brisson, FileType: PDF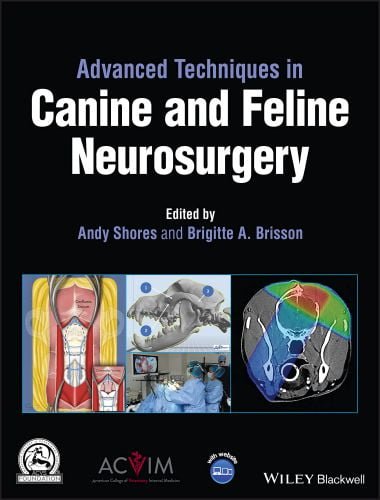 Advanced Techniques in Canine and Feline Neurosurgery, An up-to-date discussion of the latest advanced neurosurgical techniques for dogs and cats.
In Advanced Techniques in Canine and Feline Neurosurgery, a team of distinguished veterinary practitioners delivers an authoritative and accessible compilation of current best practices for surgery of the spine, neck, and head in dogs and cats. The book focuses on advanced and cutting-edge techniques in the field, offering detailed and step-by-step descriptions of state-of-the-art procedures accompanied by video clips of most.
Read More: Current Techniques in Canine and Feline Neurosurgery
The authors have developed a companion website that includes additional resources for the techniques described in the book, which provides coverage of percutaneous laser disk fenestration, spinal stabilization, and pituitary surgery. Each chapter presents a detailed description of an operative technique, indications, surgical anatomy, and related and detailed illustrations. Readers will also find:
A thorough introduction to the history of veterinary neurosurgery and applications of 3D printing in veterinary neurosurgery

In-depth treatments of post-operative radiation therapy of intracranial tumors

Comprehensive discussions of the more routine spinal procedures, including cervical ventral slot decompression

Explorations of intracranial procedures, including intraoperative ultrasound in intracranial surgery
Perfect for veterinary surgeons and veterinary internal medicine specialists, Advanced Techniques in Canine and Feline Neurosurgery will also earn a place in the libraries of veterinary residents and interns.
Product details
Publisher ‏ : ‎ 

Wiley-Blackwell; 1st edition (9 Mar. 2023)

Language ‏ : ‎ 

English

Hardcover ‏ : ‎ 

304 pages

ISBN-10 ‏ : ‎ 

1119790425

ISBN-13 ‏ : ‎ 

978-1119790426
Direct Link For Paid Membership: –