A Practical Approach to Neurology for the Small Animal Practitioner 1st Edition
---
Covering the most important considerations for the general practitioner, the book includes chapters on clinical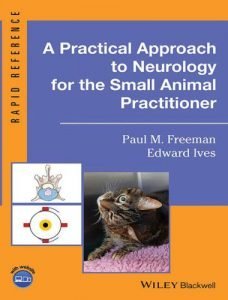 history taking, a 'stress-free' approach to the neurological examination, the most common neurological presentations in general practice, neurological emergencies, and more. It is easy to read, packed with practical hints and tips, and the information is presented using tables and bulleted lists, with accompanying images and videos to illustrate the concepts.

A Practical Approach to Neurology for the Small Animal Practitioner is ideal for newly qualified vets, veterinary students, and experienced vets seeking a refresher.

Neurology is still perceived by many students as one of the more difficult areas of veterinary medicine to understand. In clinical practice, neurological cases can also cause much anxiety, particularly in regard to clinical decision making when referral is not an option. Ed and I wanted to write a book for students and general practitioners that represents the way we feel neurology should be taught and understood, and one which would simplify a complex topic.

A Practical Approach to Neurology for the Small Animal Practitioner provides veterinary practitioners and students with a comprehensive guide to diagnosing and treating neurological cases in small animal practice.

There are many wonderful textbooks on the subject already in existence, and this text is in no way designed to compete with those excellent volumes, but rather we hope that it might prove to complement them as an approachable and useful companion for those looking for a better grasp of a complex subject. We have tried to design and produce a practical book full of hints and tips taken from our personal collective experience, which would be accessible as a quick reference guide for use in general practice, as well as hopefully being an easy‐to‐read textbook for final‐year veterinary students. Download: Veterinary Epidemiology – An Introduction

We have tried to include as many photographs and diagrams as possible to illustrate and simplify some of the more complex subject areas, and we are sure that the videos on the accompanying website will aid recognition of some of the less common clinical presentations.

We have also included video clips of a normal neurological examination as a reference. This has been a labour of love for us and we are indebted to the many colleagues, both past and present, who have inspired, taught, and assisted us, and are still doing so. The book represents the product of many hours of study, conversation, observation, and clinical practice, and we hope that it may be used and enjoyed by many.
Book Name: A Practical Approach to Neurology for the Small Animal Practitioner
File Type: PDF
Download: Link
Size: 8 MB
Password: PDFLibrary.Net