A Handbook for the Sheep Clinician 7th Edition
---
By: Agnes Winter, Michael Clarkson February 2012, File Type: PDF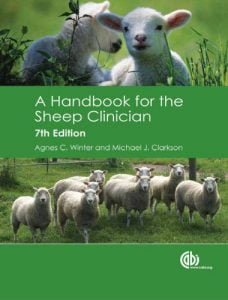 The original idea for this book was to produce a concise practical clinical guide to the diagnosis, epidemiology, treatment and control of the common conditions affecting sheep in the UK and an early version appeared in 1983. It was first used for teaching veterinary stu­dents at the Liverpool Veterinary School but we were encouraged when a number of veteri­nary surgeons and sheep farmers indicated that they found it helpful and it became well known as the 'Green Book'. The last edition was published in 1997 by the Liverpool University Press, although the document has been updated internally every couple of years since then.
The present book has been considerably extended both in the information given on the main conditions and in the geographical range covered. Although the emphasis remains on the common conditions affecting sheep in the UK, we have considered their importance in the countries of northern and southern Europe and elsewhere including Australasia and other southern hemisphere countries and in North America. We have not discussed the conditions of sheep maintained for milk production, however, since that is a specialized area mostly outside our experience. Download More: [PDF] Sheep, Goat, and Cervid Medicine 3rd Edition
The emphasis has continued to be on the practical clinical aspects of sheep medicine, concentrating on common and important aspects. No attempt has been made to cover more unusual or obscure conditions. Knowledge of the details of pathology and the organisms involved has been assumed or can be sought elsewhere. Where specific drugs are referred to we have used the generic name; availability and legislative aspects of use refer to UK conditions and may vary in other countries.
We hope that this book will prove a useful practical handbook for dealing with the com­mon conditions of sheep, both as individuals and in flocks and will be helpful to veterinary students and practitioners and also to farmers and agricultural students and advisors.
Book Name: A Handbook for the Sheep Clinician 7th Edition
Buy Now: Click Here
 Download Now: Click Here
Password: PDFLibrary.Net