A Colour Atlas of Salmonid Diseases. Understanding disease is a challenging and complex process and different from diagnosing pathogen involvement.
A Colour Atlas of Salmonid Diseases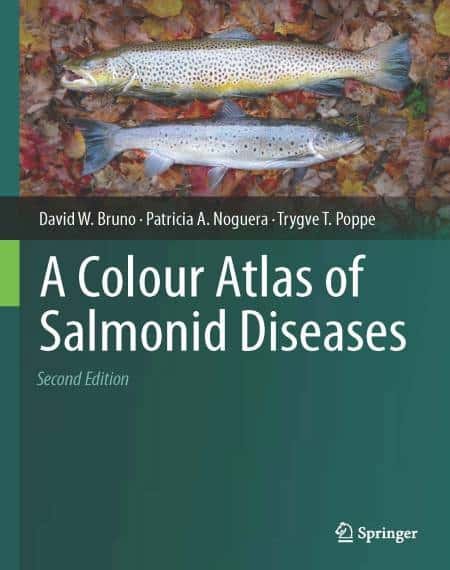 Sophisticated molecular techniques are becoming available for a range of infectious diseases and represent valuable tools; however, for disease diagnosis they generally focus on confirming or ruling out the presence of an aetiological agent. The fish itself is a complicated biological system, and the disease process the result of interactions between the agent, the host and the environment. An understanding of the normal structure and function is important so that deviations from normality that occur during disease are recognised. A good pathologist should therefore possess knowledge in diverse disciplines such as biology, genetics and physiology, parasitology, microbiology and immunology, to mention a few.
Within aquaculture, fish farming has experienced a tremendous growth and is still developing rapidly with salmonid production being a relevant component of this expansion, if not in terms of tonnage, certainly in terms of its economic value. As with all intensification in animal production, new diseases and diverse problems arise and represent diagnostic challenges, economic losses and, importantly, animal welfare issues. In this scenario and in spite of all the new techniques available, morphological pathology will remain the gold standard and cannot be replaced in the initial stages of diagnostic work. In addition, fish are increasingly being used as experimental animals, and therefore knowledge of basic fish pathology remains important for scientists.
It is our hope and intention that this book will increase the awareness and significance of diseases and animal welfare of this iconic group of fish—the salmonids. We anticipate that fish farmers, fish veterinarians and practitioners, hobbyists, anglers, policy makers and regulators will find this book useful, and even for those not working with disease as their primary focus, we believe that by understanding the pathological processes this can make their job more rewarding. For the authors, fish pathology has been a life-long experience and passion, something we hope a new generation of professionals will give continuity. The pathogen diversity and new manifestations of disease makes it a very dynamic discipline and an all-embracing art where there will always be something new to learn.
Direct Link For Paid Membership: –
Direct Link For Free Membership: –
| | |
| --- | --- |
| File Size:  | 28 MB |
| Download Link:  | Click Here |
| Password: | PDFLibrary.Net (if Required) |