50 Q&A about Parasitic Infections of Horses
---
by Aránzazu Meana Mañés, Francisco A. Rojo Vázquez, Published: 2018, FileType: PDF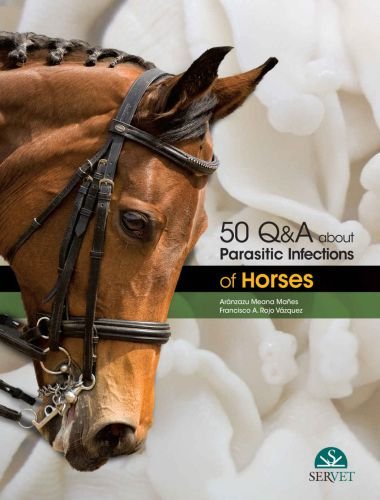 Through 50 questions and their corresponding answers, this book offers an entirely practical review of the endoparasites and ectoparasites which affect the equine species as well as the methods of controlling them. This book, organized into chapters divided by organ, presents real-life situations that deal with parasites of the horse in professional veterinary practice. Its images and diagrams – around 300 altogether – render it something of a parasitology atlas. The Handbook of Horses and Donkeys Introduction to Ownership and Care
KEY FEATURES:
– Around 300 images and diagrams.
– Q&A format.
– Practical review of external and internal parasites.
This book on parasitic diseases of equids is in no way intended as a substitute for classical equine parasitology texts, but rather as a complement to the existing body of work in the field. It is presented in a somewhat atypical format, and focuses on the most important pathological processes of equids, avoiding unnecessary repetition as much as possible.
Direct Link For Paid Membership: –