Infectious Diseases of Wild Birds
---
by Nancy J. Thomas, D. Bruce Hunter, Carter T. Atkinson in 2007
Infectious Diseases of Wild Birds, FREE-LIVING BIRDS encounter multiple health hazards brought on by viruses, bacteria, and fungi, some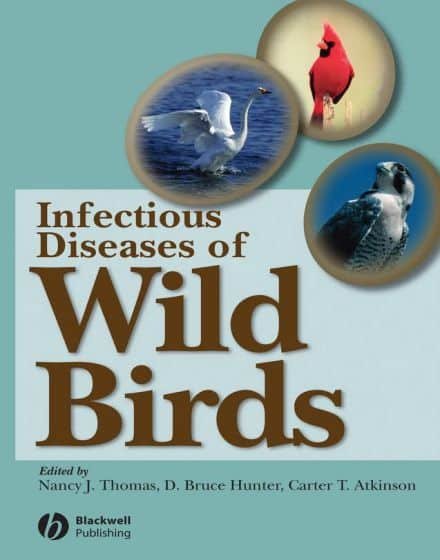 which in turn can significantly impact other animal populations and human health.Newly emerging diseases and new zoonotic forms of older diseases have brought increased global attention to the health of wild bird populations. Recognition and management of these diseases are higher priorities for all those involved with wildlife.
Infectious Diseases of Wild Birds provides biologists, wildlife managers, wildlife and veterinary health professionals, and students with the most comprehensive reference on infectious viral, bacterial, and fungal diseases affecting wild birds. Bringing together contributions from an international team of experts, the book offers the most complete information on these diseases, their history, causative agents, significance, and population impact. Focusing on more than just treatment, special emphasis is given to disease processes, recognition, and epidemiology.
This book focuses on diseases affecting free-living wild birds and the agents that cause them. Relevant information and examples are drawn from captive birds or poultry in order to fill in gaps in data or to provide lessons for managers of captive-rearing programs, as captive reintroduction programs are becoming increasingly important for supplementing wild populations of threatened and endangered species. Biologists and wildlife managers, wildlife and veterinary students, professionals in the fields of animal health and wildlife disease, and evolutionary biologists with interests in disease ecology should all find this book to be a valuable reference.
The chapters cover classical waterfowl diseases, such as avian cholera, botulism, and poultry disease agents that have taken on new dimensions in wild birds (Newcastle disease, mycoplasmosis, and duck plague). New dis-eases (circoviral, papilloma and polyomaviral diseases) have risen since the original volume in 1971, and some older diseases, such as avian influenza, have acquired global significance in new zoonotic forms. Included among the chapters are disease agents that are less significant to wild bird health but are important to human health, in which wild birds play an important role in the epizootiologic cycle (certain arboviruses and Borrelias).
Password:
pdflibrary.net