Farm Animal Surgery by Susan, During our professional careers, we have been fortunate to interact with many talented large animal clinicians. In addition, we have had our share of complications in our surgical endeavors.
Farm Animal Surgery by Susan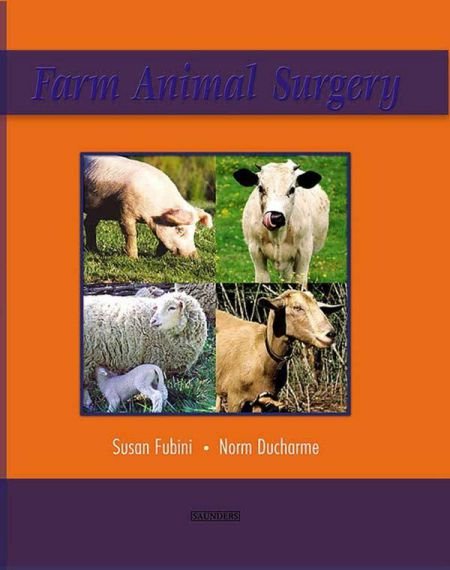 To quote Rick Hackett (a saying apparently passed down from Al Gabel), "If you are not having a problem, you are not doing enough." We want to share the knowledge we have gained, including what we are still learning from our failures. Our aim in Farm Animal Surgery is to document and illustrate our collective experiences so it is useful for large animal veterinarians, veterinary students, and residents-in-training.
Farm animal surgery as a specialty has become more sophisticated, and many techniques are being adapted for use in cattle or small ruminants. A clinician must decide on a range of management options when facing a surgical problem. These options must consider the medical problem as well as practical and financial limitations. Our intent was to publish a comprehensive description of the various surgical procedures available in farm animals. References are provided for related medical conditions and very specialized procedures. Many colleagues have assisted us, and we hope we have accomplished this task. European and Canadian authors have provided a vital, more global perspective. Many figures were generously provided by colleagues from different institutions and different departments at Cornell.
We would like to recognize those individuals largely responsible for our career development and farm animal knowledge base. These include Dr. Donald Smith, our current Dean and an outstanding food animal surgeon, Dr. Richard Hackett, our department chair and steadfast friend, and Dr. Francis Fox, a legendary food animal and ambulatory clinician. We lost two very close colleagues in recent years whose meaningful assistance were instrumental in our specialty development: Dr. Don Horney, a food animal surgeon from the University of Guelph, and our beloved friend and colleague, Dr. Bill Rebhun, an internist whose footsteps we follow every day while caring for dairy cattle in the northeast.
Direct Link For Paid Membership: –
Direct Link For Free Membership: –
| | |
| --- | --- |
| File Size:  | 100 MB |
| Download Link:  | Click Here |
| Password: | PDFLibrary.Net (if Required) |